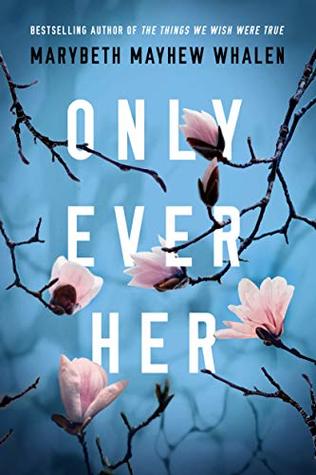 Title:
Only Ever Her
Author:
Marybeth Mayhew Whalen
Pages:298
Publisher:
Lake Union Publishing
Release Date: May 7th 2019
Genre: Mystery
Format: Kindle
A mystery novel where the missing person is not found and rescued in a happy ending. As macabre as that may sound, I was glad we weren't given a perfectly tied bow to wrap up the novel.
Annie, the small town's belle, is missing a few days before her wedding to a catch of a man. Many are suspect, including the man who was in prison on accusations of having killed her mother twenty years prior. I was sure we will never learn the exact circumstance of how Lydia, Annie's mother, died, and I did not see that coming! I loved that revealing part!
I read an advanced e-book copy, and maybe this had to do with it, but there wasn't a clear transition from one scene to another. At times I had to figure it out by reading between lines [see: Clary and Travis' history]. It doesn't mean you can't understand the story, but you have to pay closer attention to details thrown in.
I didn't like the mocking tone used towards the religious and Christian life. I felt like we were encouraged to root for Clary, Annie's cousin, and give Travis the side eye. I'm not claiming that his decisions and life are where they should be, but he moved on instead on wallowing in the past.
Speaking of moving on, none of these characters (I'm referring to those from whose perspective the story was told) seem to have done that. They still linger on the past. It's typical of a novel set in a smalltown. Another thing that didn't convince me was how a whole case was based on the babbling of a three year old. No matter how precocious Annie was at that age, you investigate further, especially when there are other leads. It's unfortunate that there is another, albeit fictional, example of the incompetence of the justice system. And it throws a bad light on the police force, again. Not to mention, in a novel it just seemed the easy way to make the reader believe a three year old's word could be considered as the basis for a murder trial.
As for the main character, I for one didn't like her, and I didn't care for her Southern sweetheart status. She was spoilt by the whole town and look what good did that do to her!
Despite all this, I enjoyed the novel a lot. I finished it in two days because I didn't want to do anything else but read more of it. It kept me interested and intrigued, wanting to read one more chapter. As far as mystery and suspense are concerned, it delivers. I sure do recommend it for fans of this genre.
4*
I received a free e-book copy from the publisher via Net Galley. All thoughts expressed here are my own.